About Us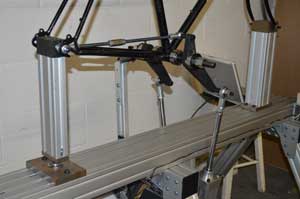 Bicycle Frame Test Machine (View Larger)
Rimkunas Cycles and Designs, Inc. is a design and development group lead by a NY State licensed Professional Engineer with over 13 years experience as a USCF Licensed Race Mechanic, who has successfully applied his experience to the design, manufacturing, and repair of both bicycles and wheelchairs.
We specialize in supplementing product development teams for bicycle and mobility products through the use of state-of-the-art three dimensional design software for modeling and visualization of prototypes.
Our design group consists of Engineers, Physical Therapists and Skilled Craftsman.
As an independent design firm, our fabrication shop is able to unite industry experts to develop quality products. We believe our services will increase the competitive edge for the small to mid-sized company seeking to increase their research and development resources. We are dedicated to leading the bicycle and wheelchair industries in the design, fabrication and testing of new product through the progressive use of advanced computer design software, prototype fabrication and strenuous testing programs.
Our services are offered to supplement product development teams while maintaining strict confidentiality with our individual clients thereby solidifying the competitive edge for those companies looking to outsource or expand their research and development team.

Who is Rimkunas?